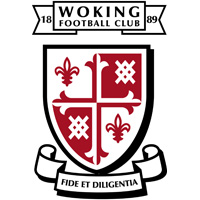 It took Aldershot just 23 seconds to open the scoring at the Recreation Ground on Bank Holiday Monday afternoon when Matt Patterson found himself through on the Woking goal and he showed great composure when he calmly slotted the ball into the bottom corner of the net to give the home side an early advantage in what was a great first derby game of the season.
The day had already got underway with a fantastic atmosphere off the pitch – with the visiting supporters adding to the noise just prior to kick off but following Patterson's early effort they were quickly knocked into silence as the home fans erupted further.
Despite the early blow, the Cards responded well and managed to raise their tempo, offering pressure of their own through Gavin McCallum and Gavin Williams, butneither could make the pressure count.
Much to the player and home supporters surprise, Joe Oastler picked up a yellow card following an innocent looking shoulder to shoulder tackle with Gavin McCallum with 9 minutes on the clock and the game began to take on a feisty feel as the tackles became more determined from both sets of players.
With the game turning in to a real derby affair, lady luck was shining on the home side when former Woking loanee Brett Williams, now with the Shots, extended the home sides lead with 19 minutes on the clock when scorer turned provider and Patterson provided a ball to the head of Williams which he dispatched passed a stranded Aaron Howe in the visitors goal.
Patterson almost made it three less than a minute later, but his effort went wide as the match continued with its typical derby theme.
Referee Huxtable was soon to call over both team captains with 20 minutes gone after a series of niggling tackles were being thrown around by players from both clubs and he showed great refereeing when he kept his cards in his pocket, opting to give stern words of advice.
On 26 minutes, Aldershot had the ball in the net for a third time after Jake Goodman converted a sliced effort from a Woking defender, however some confusion followed and Huxtable ruled out the effort with an off-side decision, prompting much protest from the home team players.
With the score still at 2-0, the match began to take more of an end-to-end feel with the Cards failing to concede defeat, and on 34 minutes, McCallum had a fantastic effort which Glenn Morris did magnificently to save.
Moments later it was Aldershot's turn to press when Williams let fly with a shot but Howe was equal to the effort and managed to parry it away from danger.
Two long range efforts from captain Craig Stanley and then Mark Moseley failed to challenge Howe before the referee blew up with three minutes of stoppage time added.
HALF TIME: Aldershot Town 2 Woking 0
Neither side made any changes to their line-ups coming in to the second half, which began a much quieter affair however to Woking's credit, they continued to press much as they had during the first half.
Despite a series of corners, Woking couldn't find their way through the Aldershot defence and it was almost costly when Molesley was just inches away from increasing the home side lead following a corner taken by Stanley.
With an hour gone, both sides looked equal and McCallum unleashed another thundourous effort which Morris
On 60 minutes, Patterson who had missed the previous game with a groin injury, made way for Aaron Wickham and shortly afterwards, Mike Cestor found himself in the referees book for decent after he brought down Brett Williams.
Woking changed McCallum for Anthony McNamee and George Bowerman made way for Freddie Ladapo on 65 minutes and a minute later Wickham could have extended the lead, but somehow managed to prodded the ball wide when scoring looked the easier option.
On 70 minutes, George Frith was brought on for former Shot John Nutter as Woking looked to get back into the game and two minutes later the referee made the biggest howler of the game when he decided to award a penalty to Woking after Morris clearly got a hand to the ball before Gavin Williams took a dive in the Aldershot penalty area. Unjustly, Gavin Williams managed to convert the resulting spot kick to give his side a lifeline.
With 77 minutes on the clock, Shots boss Andy Scott showed his frustration when Wickham sent a shot straight into the arms of Howe when either side would have beaten his man and increased the lead.
Woking continued to attack, but the home side began to adopt the tactics which frustrated them the previous Saturday at Salisbury when they took their time with everything.
Woking fans appealed for a second penalty when with five minutes remaining, but the referee wouldn't have made it home had he awarded it and the Shots continued to soak up the visitors pressure.
A poor challenge from Manny Oyeleke on Gavin Williams on 87 minutes saw the loanee end up in the referees book, but it was more a case of taking one for the cause as the player was having another good game for the club as the team ran the injury time clock down to edge a tight affair for another three valuable points.
FULL TIME: Aldershot Town 2 Woking 1
Aldershot Town: Morris, Oastler, Stanley, Goodman, Webster, Rowlands, B Williams, Paterson (60 minutes for Wickham), Oyeleke, Barker and Molesley.
Subs: Wickham (60 minutes), Roberts, Maloney, Brown and L Williams.
Woking: Howe, Newton, Nutter (70 min for Frith), McNamee (65 min for McCallum), Cestor, Ricketts, Sawyer, G Williams, McCallum (65 min for Bowerman), Betsy and Bowerman. 3138
Subs: Beasant, Johnson, Frith (70 Min), McNamee (65 min) and Ladapo (65 mins).
Attendance: 3138 (including 652 from Woking).
Referee: Brett Huxtable.