Didn't We Have A Lovely Day The Day We Went To:
By Stray Shots Team
Updated Sunday, 9th March 2008
Views: 25
Gravesend and Northfleet / Ebbsfleet
No more than a twenty minute drive away, Ebbsfleet United barely qualifies as an away trip, but it was an away game so duty calls!

Living so close to Northfleet (because there is actually no such place as Ebbsfleet in the area) meant a solo trip to the ground. BillB was bringing two of his mates (Daggers and Fulham fans) from the coast so it was just a case of meeting on the terrace. I was there before I knew it and chatted to Sparky while I identified the various fans as they approached Morris and me.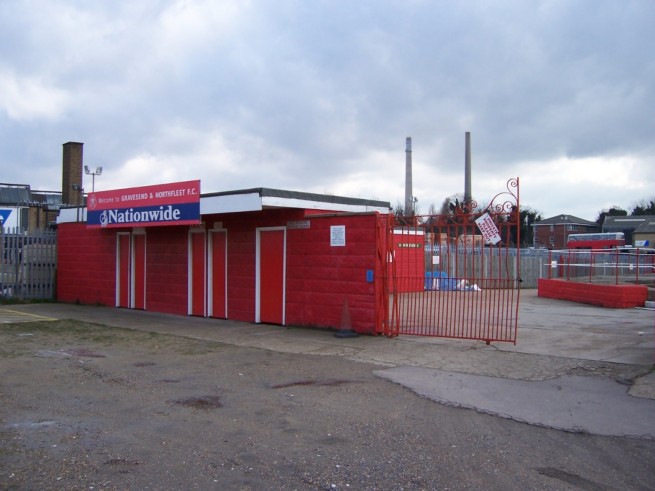 AWAY FANS THIS WAY PLEASE

It was a good turnout for a cup that some people - me included - have tended to dismiss in previous years. Being a semi-final with a potential trip to Wembley in the offing probably had something to do with it, but Northfleet isn't the biggest draw in the world at the best of times. The old bus graveyard is still there as you negotiate the pot holes of the car park on the way in - that's something unique about the place anyway.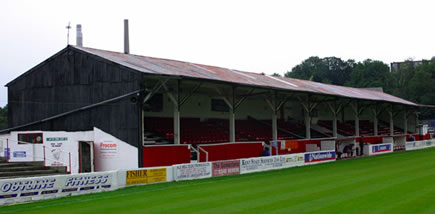 AWAY SEATS THIS END

The ground is even more ramshackle than the dear old Recreation Ground. The installation of seats at the opposite end hasn't really added to its allure. There are still "dangerous structure" notices posted, which have now moved to the concrete terrace to the left of our end. The actual terrace we are allocated is - and always has been - one of the coldest places to watch football. Today there was threat of rain and high winds - just to complete the welcome - but only the wind arrived, thankfully.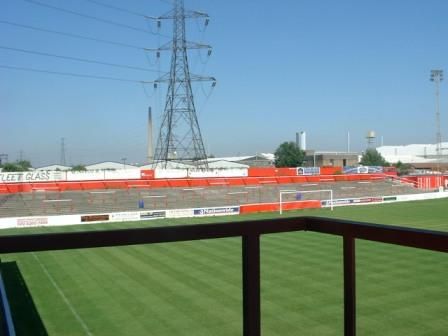 THE COLDEST TERRACE IN FOOTBALL?

This visit was always going to be an anti-climax after our visit to Torquay, and so it proved. What Gary described as easily the worst 45 minutes of football we had played since he took over saw us succumb to two penalties. The opposition's high ball over the top was too much for our defence, but it should be said that both penalties had an element of doubt about them. After Gary shook the players up at half time and used all three substitutes in the process we did control a lot of the second half, but a mixture of good goalkeeping and dodgy finishing meant we had to settle for a two goal deficit for the second leg. Our only claim for the game was that we drew the second half 1-1. Not much solace really.


As we said on the way out, it could have been worse - it could have been a league game. Our young team must put it behind them an go and give Histon a good seeing to on Tuesday.



I never expected anything else for this, the strangest of "away" days for us Kent Shots. I have seen us win and lose there, but the verdict has always been the same - no, we didn't have a lovely day the day we went to Gravesend Ebbsfleet.







Ancient Shot
Interact with us