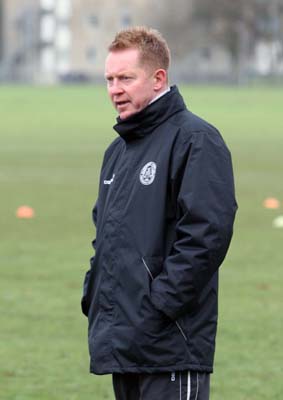 Gary Waddock: Expecting better performance.
Aldershot returned to training on Thursday, with Gary Waddock's fiercely critical words still ringing in their ears.
The manager said, after keeping his players locked in the changing room for 45 minutes, that he was 'bitterly disappointed' with his side's display in the 2-2 draw with Notts County on Tuesday.
Nor had his opinion cooled after a couple of nights sleeping on that game.
"Nothing has changed, I feel exactly the same about our performance," he said.
So, have the players responded as he has demanded? "I'll let you know the answer to that at 5pm on Saturday," was the reply.
But Waddock was quick to say that it is far from doom and gloom at Aldershot. It us easy to forget that, after two disappointing draws at home to teams below The Shots in the table (Macclesfield Town, as well as County) Waddock's side still have a recent League Two record of just one defeat in nine games.
"It is not very often at all that I have to criticise the players like that, especially at home," said Waddock. "Notts County were an extremely good side on the night too. And we still took the lead against them twice and took a point from the game.
"When you have two home games like that, people want and even expect two wins," Waddock continued.

For the full article, click on the link below:
www.gethampshire.co.uk/sport/football/s/2043502_waddock__i_cant_wait_for_bury