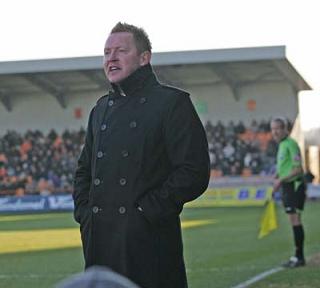 Gary Waddock: Players must do better.
Speaking to the Aldershot News, Shots manager Gary Waddock has been talking ahead of Saturday's tough encounter against Rochdale saying, "If we can play consistently as we did for the first 20-25 minutes at Brentford then we know we will put teams under pressure.
"But we need to be mentally and physically stronger to do that for long periods.
"Consistency is the key word. We had it last season and we know we can do it this season too but, for some reason, we've not had it recently.
"But I have loads of confidence in the players. What I want and need is for them to have loads of confidence in themselves.
"The players have already proved this season that they are good enough for this league and can get good results. Now they must prove that again. I will be looking for a reaction after Tuesday."
Good news for Waddock is that Marvin Morgan trained today and looks set to be available up front, after missing the last three games with injury. Morgan may well start up front with Danny Hylton, who scored twice for the reserves on Wednesday, in a 2-2 draw with Gillingham.
"It was nice to see a striker on the scoresheet," said Waddock. "I was delighted that Danny scored twice."
John Grant and Rob Elvins have started the last two games up front but have failed to set the world alight. Should Morgan be fit then at least one of them may make way. Grant, possibly, may be granted another chance to get among the goals. But Morgan and Hylton were Waddock's preferred strike pair in the good run of form before Christmas.
The bad news is that both Nikki Bull (groin) and Ben Harding (achilles) are rated 'very doubtful' by Waddock to make Saturday's game.
Harding has been ever-present in league football under Waddock and the manager admitted that his absence would be a blow.
"Of course it would be a blow to lose Ben but at least we have two central midfielders in Gary Waddock and Martin Kuhl who can come in," he joked.
"No, if Ben is out we have Scott Donnelly or Ricky Newman who can play in the middle. Louie Soares played there for the reserves on Wednesday too, so we have options.
"Perhaps we could change the formation a little too."
It would not be a surprise to see Newman start. If Waddock is looking for players of character then Newman has that - and experience - in bucket loads.

For the full article, click on the link below:
www.gethampshire.co.uk/sport/football/s/2043982_waddock_hopes_for_rochdale_reaction