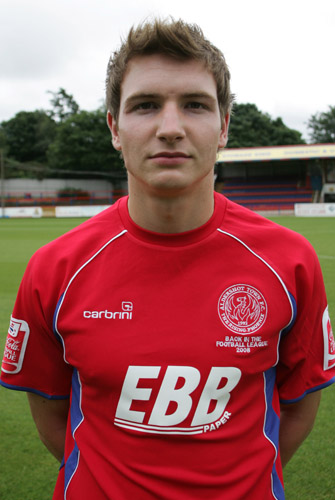 The Von: Looking to return to fitness.
Aldershot Town defender Dave Winfield has been speaking to the clubs official website
www.theshots.co.uk
about his hopes of a return in the second half of the season.
The 20-year old told said, "Progress is being made. Everything that we have put my ankle through has been positive and has come through with flying colours which is encouraging.
"I have recently spent a week at Lilleshall and it was intense rehab which was important. I needed to spend a week away to concentrate on my ankle. I want to be a part of playing though and it is tough. I watch the boys train and play and there are good days and bad ones too and it can be tough.
"You have to be mentally strong and keep saying to yourself that you will be able to return soon.
Dave has not set a time or date about when he expects to figure again in an Aldershot Town shirt but he does have an important engagement next week as he explains, "I am seeing a specialist next week and as long as I get signed off then we can start planning.
"I want to be playing in the Footbal League and it is a massive aim and incentive for me. It will be difficult to get back into the team but that is the industry that we are in.
"I believe in what I can do. They boys have done well this season but I am aiming to contribute to the second half of the season."

For the full interview, click on the link below:
http://www.theshots.co.uk/newspage.ink?nid=30493&type=p