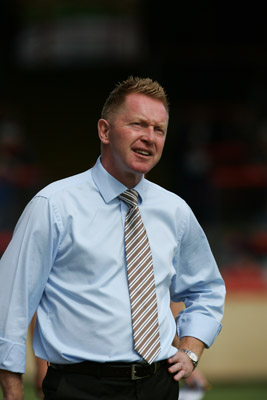 Gary Waddock: Will be up to Andy to prove himself.
Aldershot Town have signed Andy Sandell on loan from Conference side Salisbury City.
The transfer window is closed until January but, should Sandell impress Shots manager Gary Waddock over the next seven weeks, then the deal is likely to be turned into a permanent one.
Sandell, aged 25, is a left-sided midfielder, who can also play up front. He played in both Conference games against Aldershot last season (The Shots did the double over Salisbury).
Waddock sees the new arrival as more of a wide midfielder than a striker. "Andy's got it in his locker to play up front but, for me, he's more of a left-sided player," said Waddock.
"We let Ryan Williams go to Weymouth in the summer and then sold Joel Grant to Crewe Alexandra, so I've been looking for another left-sided player.
"We've used both Louie Soares and Kirk Hudson down the left this season but, to be fair to them, they are not really left-sided.
"Andy will add the left-footed balance to the squad we've been looking for. While he's a very different player to Joel Grant, it is fair to say that he does replace him position-wise. It's great that Andy can also play down the middle, yes, but we have a number of strikers in the squad already."

His arrival may be bad news for Junior Mendes, the striker whose contract is up at the end of December. Dogged by niggling injuries, he has rarely featured this season and has been used by Waddock, at times, wide on the left in the reserves.
Sandell was one of a number of high profile names made available for loan by Salisbury who, after making a storming start to the Conference season, have slipped back and are anxious to lower their wage bill amid acute financial struggles. Liam Feeney, Matt Tubbs and Robbie Matthews are all also available to move on.
But Waddock said that Sandell is a player he has been tracking for some time. "I was interested in him as long ago as when I first came to the club," said Waddock. "I was tracking him this summer too and now we've got him."
Sandell has Football League experience to his name, making nearly 40 appearances with Bristol Rovers two years ago.
"I like that he's had League experience," said Waddock. "I've had my eye on him for some time. Salisbury are having a few financial problems and have had to make some of their better players available. Andy had a lot of interest in him and he could have gone to a number of other clubs and I am delighted that he chose us."
Waddock challenged his new recruit to make the most of another chance in the Football League.
"We've only got Andy on loan as the transfer window is closed," said Waddock. "His Aldershot future is in his hands, it's up to him entirely. It's a fantastic opportunity for him to come back into the League and if he does well, he will be holding the trump cards."
Waddock has already shown this season that he is not afraid to let go loanees who do not live up to the expectation; Ben Starosta arrived from Sheffield United at right back but was gone before the end of August.
Sandell, who has scored five goals for Salisbury this season, has already met his new team-mates and his available for tomorrow's League Two match at The Rec against Exeter City.

He is, however, cup-tied for the FA Cup 1st Round replay at Rotherham United on Tuesday evening, after playing in Salisbury's 4th Qualifying Round defeat to Team Bath.

Speaking to BBC Southern Counties Radio Sandell said, "I did speak to Bournemouth and Stevenage, but once I'd seen what Aldershot had to offer, there was only one place to go.
"Last season at the Rec, the only thing I could think about was all those fans behind the goal making so much noise".

For the full article, click on the link below:
http://www.gethampshire.co.uk/sport/football/s/2039437_waddock__sandell_will_add_balance