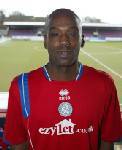 Junior Mendes: Hoping to get a final chance to shine.
In her article, Rachael has reported that it can be hard work being a footballer.
Yes, you get to have afternoons off… sometimes.
But when you are trying to play at a higher level than last season, and injury continues to hold you back, it is tough.
Just ask Aldershot Town striker Junior Mendes.
"I sustained some recurring muscle and neural type injuries that have kept me out of playing on and off since pre-season, it has been frustrating," said Mendes, speaking last week.
"You are almost at match fitness — and it happens again."
The groin injury sustained playing for the reserves against Charlton in September has been the most frustrating.
Mendes only joined The Shots in February and, after impressing on sporadic appearances in last season's Conference and Setanta Shield triumphs (Mendes also scored in both legs of the FA Trophy semi-final loss to Ebbsfleet), he was rewarded with a new deal. But that contract is up come the end of this December.
"I couldn't believe it when it happened against Charlton. I was feeling sharp and had done well in training. I had been working well with the physio and scored a couple of goals. It was all looking good until after my second goal that day and my other groin went.
"It is deeply frustrating. I have now had three injuries since pre-season and that is rare for me.
"It is just one of those things and I will have to keep plugging away. I knew what I had done straight away."

For the full article, click on the link below:
http://www.gethampshire.co.uk/sport/football/s/2040243_mendes_hopes_for_a_final_shot