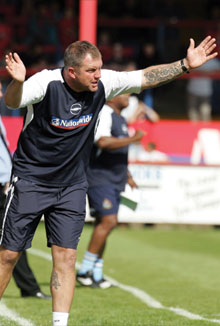 Martin Kuhl: Looking to continue winning ways.
Martin Kuhl has been speaking to the clubs official website following Tuesday evenings First Round FA Cup replay victory and admitted he was pleased with the resul.
He said, "We were solid at the back versus Rotherham United in midweek and moved the ball. We worked well for each other and looked stronger up front, especially in the second half.
"They came at us early on with balls in the box which we had to deal with and I thought we were a touch sloppy in the early stages. However we weathered that and grew in confidence and started to show how we can play. The first goal was important. In the last couple of weeks our play around the final third has probably let us down especially around the 18 yard box. We have been on the training ground and worked on various aspects and it paid off against Rotherham.
"After the break the second goal from Marvin Morgan was great to watch and it is something that we have worked on. It is all about making runs and everybody being aware of what we are capable of doing and then using our pace. The boys deserve great credit for this. We are not surprised that we won at Rotherham. To be honest many people had written us off and not been positive about our chances. We knew we could turn the tide and score goals in the process too and we did."

For the full article, click on the link below:
http://www.theshots.co.uk/newspage.ink?nid=30528&newstype=i