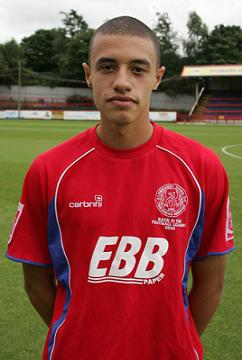 Kirk Hudson: Up for award.
The overall winners will be announced during Sky Sports' Big League Weekend 2 next Monday (12 January). The programme will commence at 6pm.
It ends 2008 on another high note for Kirk who has now played 119 appearances for Aldershot netting 35 goals.
Kirk originally signed on full contract forms in July 2006 and in March 2008 he signed a contract extension (until the end of the 2009-10 season) after which he played his part in reaching the FA Trophy Semi-Finals and followed that up by being one of the goalscorers as the Setanta Shield was won.
For the full news, visit the clubs official website by clicking on the link below:
http://www.theshots.co.uk/NewsPage.ink?nid=30736