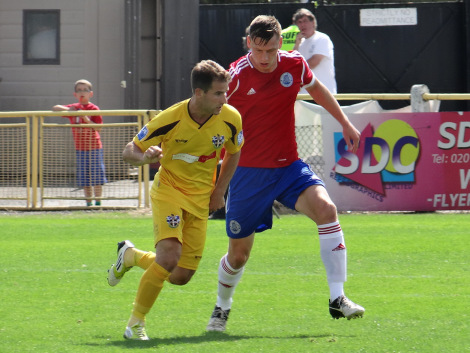 NEW ALDERSHOT TOWN loan signing Jake Goodman spoke to The Aldershot Writer today, to discuss his loan and his overall football career.
AW: What made you move to Aldershot and were there any other offers from elsewhere?
JG: "There was interest from a few other clubs but me, Steve Lomas, and Neil Harris all agreed Aldershot would be a good place for my development."
AW: What are your thoughts on the loan system? Is it beneficial to just young players or all age groups?
JG: "It's beneficial to everyone because for a young player like myself,f we get to gain valuable first team experience and for older players they get to keep match fit for when they are needed at their parent club."
AW: What football club do you support?
JG: "I am a Millwall supporter."
AW: Do you know the Aldershot gaffer, Andy Scott?
JG: "No didn't know him before the loan talks started."
AW: What's your preferred playing position?
JG: "Centre Back."
AW: Did you enjoy playing on loan for Luton?
JG: "Yes, I gained valuable experience.
"I got on really well with the lads and the fans were amazing and passionate!
"I really enjoyed my time there and still keep in contact with a few of the lads."
AW: Was football your first job and absolute dream?
JG: "I didn't get picked up so I started college and did a BTEC Sports course.
"I was scouted be Millwall while I was playing for my college team. I joined them [Millwall] on a scholarship the month before my seventeenth birthday and I've been there ever since.
"Basically one way or another, the hopes for my future involved football."
AW: Who are your heroes within football?
JG: "That's a hard one. John Terry, Michael Dawson, Kompany, players like that really."
AW: Who is the best manager you've worked under?
JG: "All my managers have been good.
"I couldn't pick one. They all have their own ways of doing things and their own styles of football which has taught me a lot."
AW: What boots do you wear or like?
JG: "I usually go for Nike tempos but this season was drawn to Adidas for some reason – nothing to do with the kit sponsor they happened to be the ones I picked a few weeks back!"
AW: Who are your best friends at Millwall?
JG: "I don't really have a best friend, I get on with them all."
Interview and picture with thanks to the Aldershot Writer.
You can visit the Aldershot Writer's website here.