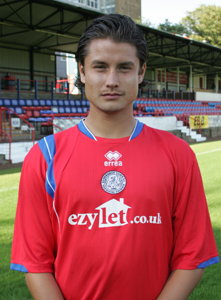 Jonny Dixon: Gave great service to The Shots
Aldershot Town striker Jonny Dixon has moved to the South coast in a deal which will pocket the club an initial £56000.
The 24-year-old forward joined The Shots in a £6000 deal from Wycombe Wanderers having had two highly sucessful loan spells at the club, however his contract was due to expire at the end of this season and he could have walked away from the club for free.
Speaking about the move Shots Chairman John McGinty told the clubs official website
www.theshots.co.uk
, "On Monday I received a call from Mr Dick Knight Chairman of Brighton and Hove Albion FC with a direct question, would you sell Jonny Dixon to Brighton & Hove Albion F.C?
"We discussed the matter and an offer was made by Mr Knight to me. I took this to my manager and secretary and our conclusion was that we could not refuse their offer.
"Jonny met with Mr Knight and has agreed personal terms"
He continued, "It would be unfair to have blocked the lads progress to the First Division of the Football League. I can assure you that he thanked the club for not standing in his way in his progress to a higher league.
"It only leaves me to say on behalf of all of us "Good Luck Jonny" and thank you for everything, we will be watching out for your results."
Manager Gary Waddock told the local media, "We've lost a talented player but it gives a chance to someone else either inside the club or outside."
The move has become The Shots record transfer deal and we at the Stray Shots wish Jonny all the best for his future and thank him for all that he has done for The Shots during his time with the club.
Date of birth

Monday, 16th January 1984

Height

5.9

Place of birth

Murcia, Spain

Weight

11.1

Nationality

Position

Forward

Comments

Squad No.