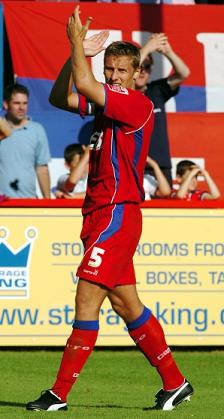 Rhys Day: Promotion is the aim.
Shots captain Rhys Day has been speaking to the clubs official website ahead of this weekends important FA Cup tie against Rotherham United and although he has admitted that a cup run would be good - he has set his sights on promotion.
"I always set targets each season and my main one is to aim for promotion" he said.
"The FA Cup is the next one in priority and hopefully we can do well with both targets set this season.
"If you get a good run in the competition then you can test yourself against higher opposition and that is always an opportunity to be in the spotlight and with the players and talent that we have here it is a great incentive within this squad."
For the full article, click on the link below:
http://www.theshots.co.uk/NewsPage.ink?nid=30446