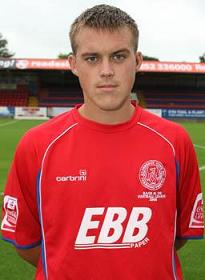 Greg Burns has reported that the possible transfer of Aldershot Town midfielder Scott Donnelly to League One Wycombe Wanderers, is firmly in the court of The Shots according to Gary Waddock, the former Shots manager.
Wanderers had a bid turned down for the 21-year-old former QPR trainee by Shots this week which was believed to be in the region of £15000, but Donnelly has said that he would like to play under Waddock again.
The youngsters contract runs out at the end of the season and there will be a lot to think about on The Shots Board should a higher offer be made - but with BBC Radio Surrey reporting that Wycombe's bid for Shots striker Marvin Morgan being just £50000, it is unlikely that the Chairboys would produce a similar offer for Donnelly when they could pick him up for next to nithing in the summer.
Speaking to the press Waddock said: "I have known Scott since he was a young lad at QPR. I think there is a feeling from both sides that we would like to work with each other again but at the moment he is an Aldershot Town player and is under contract so that is that for the moment. It is up to Aldershot now."