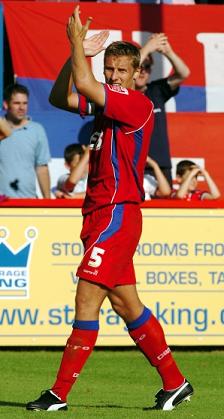 Rhys Day: Poor team performance.
Rhys Day has been speaking to the Aldershot News this week following the teams poor performance against an impressive Notts County side and has told reporter Charlie Oliver, "It would be interesting to see the possession stats from Tuesday's game against Notts County.
"They completely dominated the ball and it simply was not good enough from us.
"I thought in the first half that, while we were not at our best, County were at least largely playing in front of us and we didn't defend too badly.
"But we kept on giving the ball straight back to them and, when that happens, you can't get out of your half and you get pushed deeper.
"It's simple: if you don't pass the ball well, you don't get to keep it and you can't get out.
"We are supposed to be the side who can pass the ball well but instead they gave us a lesson in it. That's what Martin Kuhl said afterwards in the dressing room. That it was embarrassing that we like to call ourselves a passing team but we'd allowed ourselves to be passed off our own pitch by a visiting one.
"The Gaffer [Gary Waddock] and Kuhly held a lengthy inquest with us all in the dressing room afterwards. It was a mix of anger and trying to look forward constructively. The Gaffer made his feelings clear with a couple of wise words, let's put it that way. Then Kuhly had his turn.
"As captain, there is a time and a place to speak up but, while I did feel like saying a few things as they were ranting, I kept schtum. At times like that it's definitely right just to let the management have their say, deal with things and show that they are in charge."

For the full article, click on the link below:
www.gethampshire.co.uk/sport/football/s/2036004_day_thinks_it_all_over