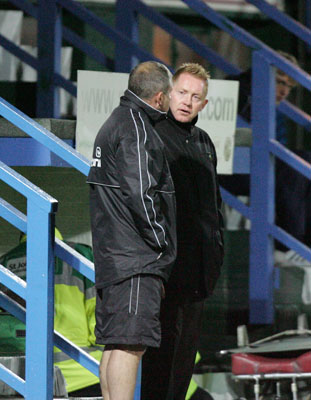 Waddock & Kuhl: Working hard to right the wrongs.
Gary Waddock has been speaking to the clubs official website about their poor luck away from home.
After yesterdays 2-0 defeat against a poor Morecambe side at Christie Park, The Shots boss told the site, "I said to the players afterwards that before their first goal they did not cause us any problems. I turned to Kuhly (Martin Kuhl) during the second half and said that this may not be our day what with the penalty miss, their keeper making some great saves and Ben Harding hitting the crossbar.
"We just have to keep working hard and it will turn for us at some stage. We had a great opportunity with the penalty and they are turning-points in the game especially when you are away from home. It was a bit flat afterwards but we tried to remain positive to kick on in the second half. The two goals that we conceded were sloppy.
"It makes it more frustrating because Morecambe didn't create too much during the course of the game. It is a hard world that we live in within football and sometimes you don't get your rewards for the effort that you put in but nobody gives it to you it all has to be earned and you have to make things happen. We would have got something out of this game last season but the difference is that they took their chances when they were given them."

For the full article, click on the link below:
http://www.theshots.co.uk/NewsPage.ink?nid=30432

Supporters can subscribe to the Shots Online service on the link below to get up to the minute news and see more from the club:
https://www.theshots.co.uk/RegistrationCheckout.ink