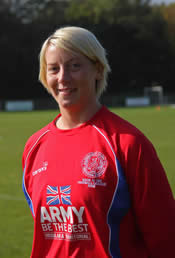 Fourth placed Bracknell Town make the short trip across the county border on Sunday afternoon as The Shots Ladies finally get to play some competitive football - their first since November 15th!
Postponements against the Robins (in November) and Slough (in December) as well as receiving an enforced "bye" in the League Cup following BTC Riverside's resignation may well have caused Andy Liddicott to scupper any plans of festive progression, however the Ladies will have to hit the ground running if they are to live up to their pre-Christmas promise in keeping pace at the top end of the table.
Speaking to The Shots, striker Laura Wallman said: "I'm really looking forward to the game as we haven't played for months with all the postponements.
"Hopefully we will be able to get back in the swing of things quickly enough and fingers crossed the pitch will hold up and that the match will end with the right result - we could do with three-points in order to put some pressure on Maidenhead who are above us in second."
Indeed, The Shots last met their visitors back in August when the Robins had the better of the first half but were put on the back-foot during the early part of the second half when they conceded three quick goals (through Tracy Marlow, Jade Ferguson and Nikki Moore) resulting in a 3-2 victory for Liddicott's side.
Since then, the Robins have had a mixed campaign, doing well against the league leaders [Southampton Saints] in both games but dropping points to Launton whilst The Shots have been rather more consistent in picking up points as well as enjoying a decent FA Cup run.
This season has seen Robins Manager Dave Ward having to re-build his first team squad following a number of players becoming unavailable through pregnancies, transfers and retirements - all of which have left a significant gap at his club.
With the Robins also establishing a second team this season, Ward has understandably found his squad far smaller than he would have liked and with the inevitable injuries that clubs pick up at this stage of the season, there has been a massive impact when it comes to team selection.
Ahead of the match Ward will be without Tracy Corkett [ruptured ankle ligaments] and Shelley Strange [torn cruciate ligament] both of whom are unlikely to play again this season, while Siobhan Ridout [ankle ligament damage] remains sidelined for the foreseeable future.
Speaking to The Shots earlier this week, club captain Emma North [pictured] said: "With this match being our local derby it has always been a close fought match, over previous season Bracknell have usually scraped through and come out on top.
"We know it is going to be a battle and with all those mince pies taken on board over the festive season who knows what can happen?!
"We were showing some good form in the run up to Christmas so I hope that we can pick up where we left off and improve on that position."
Keeper Lesley Hubbard concluded: "This will be a tough game as most clubs have not played for a month due to the bad weather.
"We are welcoming back a few players from injury so the squad is in a lot healthier state so let's hope we can run off the turkey and Christmas puddings and record another win!"
Shots Ladies from: Gemma Twine, Leslie Hubbard, Tara Coles, Holly Gayler, Sian Houghton, Emma North, Nikki Moore, Laura Wallman, Jade Ferguson, Caz Shepherd, Nicky Hoblyn, Kura, Hannah Grover, Laura Funnell and Stacey Ireland.
Bracknell Town from: No team news currently available.
Kick off is at 1pm, entry is FREE and everybody is welcome to attend.
Don't forget, you can pick up a copy of the Ladies charity calendar at just £9.99. Visit www.footygirlscalendar.com for more details on how to order yours.
The weekends other fixtures:
Milton Keynes Wanderers vs Southampton Saints
Shanklin vs Maidenhead United

Slough vs Launton
Wycombe Wanderers vs Henley Town
If you'd like to find out more news on the Aldershot Town Ladies Football Club, visit www.aldershotladies.co.uk.