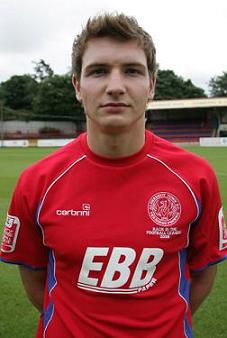 Dave Winfield: One of several Shots players who have come through the ranks.
The Youth Team plays in the Football League Puma Youth Alliance League (PYAL) and Cup, The FA Youth Cup, and in friendlies against other senior clubs or organisations.
Next season the club plans to increase the Centre of Excellence from the current Youth Team squad to several additional age groups, extending the footprint and greatly increasing the reach for potential sponsors. The PYAL receives considerable attention from Premier League and other senior clubs.
Last weekend (4th Jan 2009) Gillingham FC featured three players on their bench against Aston Villa in the FA Cup Round 3, who had played against The Shots in PYAL fixtures pre-Christmas, in which The Shots lost by the narrowest of margins 0-1 and 2-3, such is the high quality of football at this level.
In addition the Centre of Excellence has an education programme in partnership with Farnborough College of Technology (part of the University of Surrey) and The League Football Education (www.lfe.org.uk ) body.

Further partners include Aspire Defence Services Limited and The Ministry of Defence who currently provide all training and match facilities. This creates a very large audience base for any business associated with the Aldershot Town FC Youth Centre of Excellence.
Interested parties who wish to promote their brand at other Football League club COE/Academy venues, and through the club's own website, other media and events should send an e-mail to: atfcyouth@gmail.com with details of their brand and business interests, and requesting information on sponsorship opportunities. Please add YT SPONSORSHIP to the subject field.
PLEASE DO NOT CONTACT THE CLUB BY PHONE OR E-MAIL ON THIS TOPIC AS WE DO NOT HAVE THE RESOURCES TO DEAL WITH SUCH ENQUIRIES.