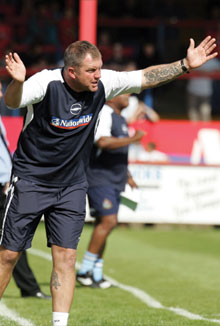 Martin Kuhl: Good performance by players.
Aldershot fielded first team players Louie Soares, Danny Hylton, Ricky Newman, Junior Mendes and Dean Howell in an entertaining game at the EBB Stadium.
All the goals came in the first half and it was the shots who scored first when Hylton finished from close range after good work by Alex Bailey and Louie Soares created the chance. The Gills were level eleven minutes later when a slip by Ben Hutchings allowed Luis Cumbers to equalise past home keeper Darren Behet.
For the full report, click on the link below:
http://www.theshots.co.uk/newspage.ink?nid=30824&type=m