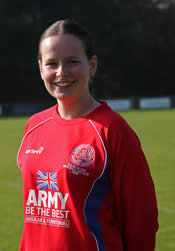 Aldershot Town Ladies will be hoping to make the semi-finals of the Hampshire Cup this Sunday afternoon, but must first overcome a potential banana-skin in the form of their lower league opposition.
Having gained success in the Hampshire League in recent seasons, Portsmouth were promoted to the Southern Region Women's League Division One - one below The Shots, at the start of the season and are more than holding their own - currently sitting in third position, just five points behind the leaders but with two games in hand.
Speaking to The Shots ahead of the match, striker Laura Wallman [pictured] who is in the second year of a Sports Science degree at the University said: "It should be a very good game and the fact that I study at the Uni makes it that extra bit special to me and I'm really looking forwards to it.
"Because I already played for The Shots when I started [at the University], I opted to play Basketball when I'm there, but I'm fairly sure that I will know a couple of their players because the sports teams interact quite a bit during term time.
"I believe that they are a good team and they will be a tough test for us, especially as we still haven't been able to play a fixture since early November due to the weather conditions.
"It would be great for the team to potentially go through to the Semi-Finals of the Hampshire Cup and on a personal level, to have the bragging rights over my own university!"

Shots Ladies from: Gemma Twine, Leslie Hubbard, Tara Coles, Holly Gayler, Sian Houghton, Emma North, Nikki Moore, Laura Wallman, Jade Ferguson, Caz Shepherd, Nicky Hoblyn, Julia Kurz, Hannah Grover, Laura Funnell and Stacey Ireland.

University of Portsmouth from: Amy Hawkins, Rebecca Ingram, Sophie Kingsley-Smith, Louisa Cambridge, Katherine Peters, Michele Niven, Sarah Stubbs, Florence Lunn, Alice Back, Victoria Lewis, Carla Laney, Laura Newsome, Becci Harman, Kirstie White, Katie Harrison and Sarah Wilmer.

Kick off is at 1pm, entry is FREE and everybody is welcome to attend.
If the scores are level after ninety minutes, there will be extra-time and then penalties if required.

The weekends League fixtures:
Oxford United vs Slough
Shanklin vs Henley Town