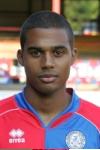 Soares - In Squad
They are coming "heavily armed" for the opening match of the 2007 Digicel Caribbean Cup at the Hasely Crawford Stadium, Mucurapo on Friday. January 12 from 6 pm.
The "Bajans" named their team for the final on Thursday and unlike the hosts, will have four UK-based players in their team including dangerous Premiership and Sheffield United striker Paul Ifill.
Strikers Mark McCammon of Doncaster Rovers, Ifill of Sheffield United who is on the transfer list, Neil Harvey of Wrexford and winger Louis Soares from Aldershot Town have been named in the 18-man team.
Ifill, who has been placed on the transfer market by his club, played in both rounds while six-footer McCammon was only available for the first round in Antigua when he scored four goals.
Soares and Harvey, a former national Under-21 player, have been drafted into the team as well as Lucas, who represented Barbados last year when the finals were held at the National Stadium and scored his only goal against Trinidad and Tobago.
First-choice goalkeeper Alvin Rouse, who is awaiting the results of an MRI scan on his shoulder, has also been selected in the team which will be captained by long-serving midfielder Norman Forde.
The team, under head coach Eyre Sealy has however been hit by injury with three players, inspirational sweeper Rommell Brathwaite, defensive midfielder Elvis Defreitas and forward Michael Forde, all out with injury.
Technical adviser Keith Griffith was also on a spying mission in Trinidad recently, telling the Barbados media about his visit.
"The Trinidadians' preparation looks sound with a lot of enthusiasm and hard work with about 40 men at training. The sessions were intensifying from 10 am to 1 pm in the hot sun.
"Even though they will be without players like Dwight Yorke, Stern John and Dennis Lawrence, they will still have a strong team."
Griffith said there were "about eight players who went to the World Cup finals" in the squad.
"I believe that once we maintain our focus and play with passion, pride and commitment, we should be equal to the task and get the right result against them. I believe we will surprise Trinidad and Tobago," Griffith added.
Barbados squad: Alvin Rouse, Morrison Taylor (goalkeepers); John Parris, Dwight James, Renaldo Fenty, Bryan Neblett, Jonathan Straker, Ramuel Miller (defenders), Gregory Goodridge (utility), Romelle Burgess, Norman Forde, John Hawkesworth, Jeffrey Williams, Louis Soares (midfielders), Ryan Lucas, Neil Harvey, Paul Ifill, Mark McCammon (strikers).
Source:
http://newsday.co.tt/sport/0,50328.html