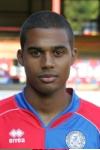 Soares - First goal, but on his way home

Barbados tamely bowed out of the Digicel Caribbean Cup football finals when they lost their final match against Martinique 3-2 with all five goals coming in an action-packed first half at the Hasely Crawford Stadium here last night.
Needing a big victory to keep alive their slender hopes of reaching the semi-final round, Barbados virtually said goodbye to whatever chance they had when they gave the Martiniquans far too much space in the first 20 minutes, with some amateur marking in defence and conceded two uncontested goals 'to trail 2-0.
It was clear from the outset that there was not much cohesion in defence as Barbados' technical staff made a number of line-up changes in both personnel and positional play from the side which lost 2-0 to Haiti on Monday night. Rohan Hall started at left back and Ramuel Miller in the midfield, with Louis Soares coming in for Jeffrey Williams.
Play-maker Norman Forde was pushed up into an attacking role, with veteran Gregory Goodridge coming into the midfield from rightback where Rudy Grosvenor was stationed at right back.
Jonathan Straker took over at sweeper with John Parris at front stopper, but the Bajans made a disastrous start and had to play catch-up for the remainder of the match as Martinique maintained their unbeaten record against Barbados in nine matches between 1984 and 2006 with their fifth win, while drawing the other encounters.
Martinique stunned the Bajans as early as the ninth minute when captain Patrick Percin, unmarked on the left side of Barbados' defence, beat the off-side trap and ran onto a long goal kick by custodian Eddy Heurlie and pushed the ball to the right of recalled goalkeeper Adrian Chase, who had replaced Morrison Taylor between the uprights.
The French islanders made it 2-0 in almost similar fashion in the 20th minute when Johan Clementia broke free on Barbados' left side and easily beat the stationary Chase, who could do little in another one-on-one situation.
Barbados pulled back a goal in the 27th minute when English-based striker Neil Harvey powerfully volleyed in a left-footed cross from Goodridge past Heurlie. Immediately afterwards, Heurlie saved a header by Parris from a free-kick by Grosvenor with his boot, while Soares hit wide from an acute angle after the ball was chested on by Forde.
That was the best spell of the half for the Bajans as Martinique soon restored their two-goal lead when a cross from the right side by Percin was dummied by Clementia and Gael Germany buried the square back from just inside the penalty area in the 28th minute to make it 3-1.
In the 43rd minute, Soares, who plays for Aldershot Town in England, scored his first goal for Barbados when he disposed Heurlie and scored into an empty net to made it 3-2.
Despite enjoying the better of the second half, Barbados, who surprisingly only brought on Ryan Lucas in the last ten minutes for Soares, were unable to get the equaliser and made their exit from the championship finals with a solitary point and as the only team in either of the two groups without a win.
The result meant that regardless of the outcome of last night's final match between Haiti and host country Trinidad and Tobago, these two teams will advance to the 'semi-finals.
In the other group on Tuesday, Guyana, courtesy a hat-trick from striker Nigel Codrington, defeated Guadeloupe 4-3 in a thrilling encounter, while Cuba blanked St Vincent and the Grenadines 3-0 to leave all four teams on three points from one victory each going into tonight's final two games.
BARBADOS – Adrian Chase (goalkeeper), Jonathan Straker, John Parris, Rudy Grosvenor, Rohan Hall (John Hawkesworth), Ramuel Miller, Romelle Burgess, Norman Forde (captain), Gregory Goodridge, Louis Soares (RyanLucas), Neil Harvey (Jeffrey Williams).
MARTINIQUE – Eddy Heurlie (goalkeeper), Gael Germany, Wilfrid Thalien, Jose Goron (Sebastien Lugiery), Daniel Herelle, Willy Padolly, Johan Clementia, Xavier Bullet, Franciano Etinof (Jean Victor Lavril), Audrick Linord.
Referee: Javier Jauregua (Natherland Antilles); Assistant referees:
Joseph Taylor (Trinidad and Tobago), Stephen Browne (Jamaica). Fourth official: Rudolph Angela (Aruba), Commissioner: Boris Punch (Trinidad and Tobago), Referee Assessor: Carlos Ortiz (El Salvador).
Attendance: 3 000
Source:
www.nationnews.com