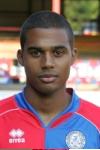 Soares - Picked up an injury against T&T

Boued by their 1-1 draw with host country Trinidad and Tobago, Barbados go into their second match of the 2006-2007 Digicel Caribbean Cup Football Finals confident of defeating Haiti at the Hasely Crawford Stadium at 5pm here today.
"Having gotten a useful result versus Trinidad, we will be going all out to get a winning result against the Haitians," technical adviser Keith Griffith told National Sport yesterday after a morning training session, which started at 6:45 at the King George Park ground, near the Queen's Park Oval.
"For sure, we will respect them but we will be playing positive and attacking football in an effort to get a winning result. We are looking for two victories in the last two games and three points here will put us in pole position to top the group," added Griffith.
Barbados fought back gallantly in the second-half against Trinidad to grab the equaliser with a header from English-based Neil Harvey. What was heartening was that even when the Bajans were down to ten men with the ejection of John Hawkesworth, they displayed steely resolve in the last 15 minutes and did not wilt under the pressure from the Trinidadians and conceded any more goals.
They will have to play with similar grit and determination against Haiti, who are now ranked 102 in the FIFA world rankings with Barbados at 98.
Almost unbelievably, there has only been one documented official match between Barbados and Haiti in the past and that was 32 years ago, back in 1974 at the National Stadium. Then, Haiti were on their way to the World Cup finals and Barbados surprised them with a 3-2 victory.
Haiti looked quite impressive in their 1-0 victory over Martinique in the second game of the double header on the opening night, and Barbados will have to play close attention to the attacking trio of Guillaume Stéphane, Mones Chery and the skilful Brunel Fucien.
Barbados used a 5-3-2 formation against Trinidad and Tobago, and Griffith said they would revert to the flexible 4-4-2 set-up with Burgess and Straker playing the holding role in front of John Parris, who had an outstanding game at sweeper and front-stopper James.
Word from the Barbados camp is that Irish-based Eric Lavine has arrived in Barbados and was due to join the team late last night or early today.
It appears Barbados will make at least two changes to the starting line-up with Renaldo Fenty, who was a fixture at the left wing-back position in the preliminary rounds, replacing Hawkesworth, who is serving a one-game suspension.
Jeffrey Williams will also start along with captain Norman Forde in midfield, as Louis Soares of Aldershot Town in England, has been icing a swollen ankle injury he got in the game against the Trinidadians and is not 100 per cent fit.
Coach Eyre Sealy has made it clear Barbados' first ambition is to qualify for the CONCAF Gold Cup in the United States in June, but in order to do that, they must get into the semi-final round and that means winning today's game against the Haitians or Wednesday's final match versus Martinique.
"Our first goal is qualifying for the Gold Cup. If we get there (in the semi-final round of the Digicel Cup), then we will start looking at winning it," Sealy said.



Source: ezrastuart@nationnews.com